Dennis Gün "Did we met before?"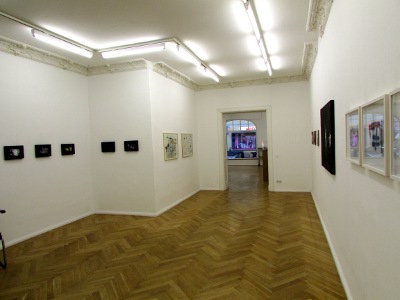 New Paintings and Work on Paper
In the 90ies, Dennis Gün has become known as a painter of large-scale screens. Since then, his work is represented in international museums and private collections.- Whereas the last ten years have been marked by a period of intensive engagement with different media techniques and photography, he has again turned towards paint and canvas lately.
This forthcoming exhibition gives an insight into the newly generated oeuvre of more than a year - and at the same time insight into a heterogeneous and multi-layered work. The predominantly small -scale canvases, the works on thick handmade paper and bronze plates represent an artistic new beginning.
An impasto, substance of paint which seems to break up illusory, the playful structures of the image areas and insertions of words : this all represents a complex reference system which materializes new and formal solutions and, at the same time, new subjects. The color seems to change its physical state: it is liquefied to nearly amorphous structures. Static elements become dynamic, find a life of their own , linked to the forms of time and space.
The image turns into a spontaneous rhythm of color patches and lineation, a synthesis of energy and creative power: spiritual impulses are implemented immediately. Personal cosmologies and concepts as well as visualizations of methods resulting from philosophical and technical knowledge pour in.
These are images that organize knowledge. At the same time, they include virtuously the area of the imaginary and its structures . Dennis Gün is interested in the ( image-) space as an experience, a sensory perception : the image as a theater 'en miniature'.