Ludwig Berger - Frank Maibier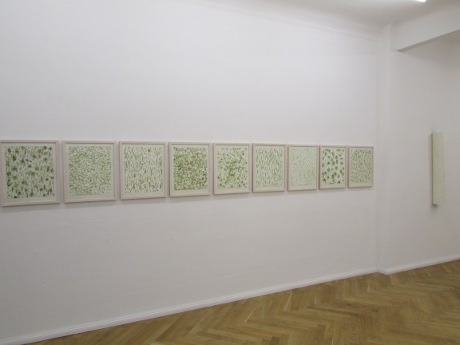 We cordially invite you to the opening of our new exhibition on, 23 January, 2015 between 6 and 9 pm.
In Ludwig Berger's sound installation "A Years hours behind my Fathers House", the annual processes at a certain place at different times of day are experienced acoustically. The everyday sounds he recorded for a whole year can be broken down to a perception of the fixed time, but also to the flow of time. The four different time-leap sequences combine in forming a cyclic movement; comparable to poetry, where by means of verbal condensation striking images may arise: in the work of Ludwig Berger this same effect is achieved by the compression of delicate lines of sound i.
Since the 80s, Frank Maibier works preferably with paper. He uses cuts, fractures , cramps, he folds, perforates or blows the material with an ax or a hammer in order to go beyond the limits in the search for a wideing range of formal solutions. The structures, reduced to the very essential, develop a very sensual appeal. His latest work is titled "Beaten hours".
For this exhibition, the artist has specially designed a serial sequence of work, conceptually set in its preoccupation with space, time and perception but also referring to Ludwig Berger's sound installation.